Review GW01.0213 4K 20MP IR night vision wildlife camera
4K 20MP IR Night Vision Wildlife Camera
As we have said before photography covers a wide range of genres, especially if you are looking at taking photos and/or video of wildlife. You could sits for hours waiting for that elusive fox or badger to turn up and not see anything. However, you could set up a mini trail camera to take photos / videos for you saving you a lot of wasted time.
We have had a few trail cameras from Kent Faith and when this one appeared on their website we had to buy it try it out. We wanted to test the IR out in pitch black settings and how the camera would record in 4K.
We found the build quality to be excellent. Good sturdy construction. The IP66 Rated housing is held together with two good sturdy clips giving a good airtight seal.
The camera weighs in at 277g with the dimensions of 136 x 90 x 72mm. It requires 8 AA batteries and we recommend the high end rechargeable types with a high MAh. The unit can also be powered via an external 6v power supply.
It comes with an array of features and  we would recommend that you look at the website for the full info breakdown. With 40PCS 850nm Infrared LED this camera will see anything at night.
We were really impressed with the standby time on this camera which can last up to 12 months (depending on your settings)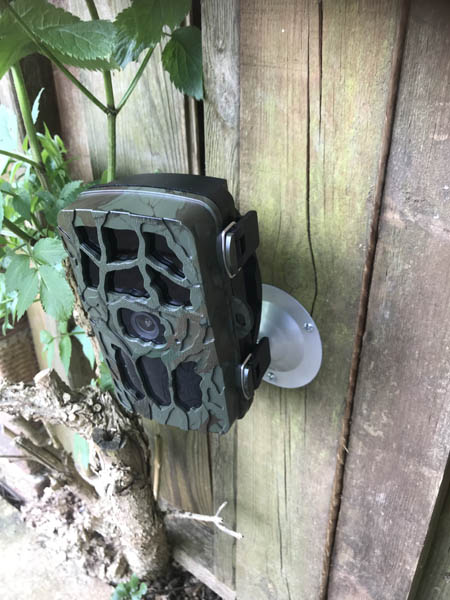 To test the system we inserted the highest capacity SD card  (128Gb) it could take we mounted it where we know a number of foxes use it as a cut through and laid out some hard boiled eggs. The mounting plate was easy to screw into a wooden post and mount the camera with camera mount.
We set the camera mode to Photo & video with photo resolution to 8MP (3264 x 2448px ) and video to 4K HD.
Video Length was set to 10 second segments each time it was triggered. Audio recording was set to on.
Sensitivity Motion setting were left at Middle.
Over three days the camera took hundreds of photos and videos through sunshine and torrential downpours (typical British weather) and performed perfectly throughout.
As can be seen from the still images above and video below the camera worked faultlessly. Capturing the fox in pitch black with the IR cameras, showing clear details with the times and temperature stamps.
This is one camera that you definitely want in your kit bag. It performed so well and gave amazing results for such a great price.