Review of NANO Magnetic Filter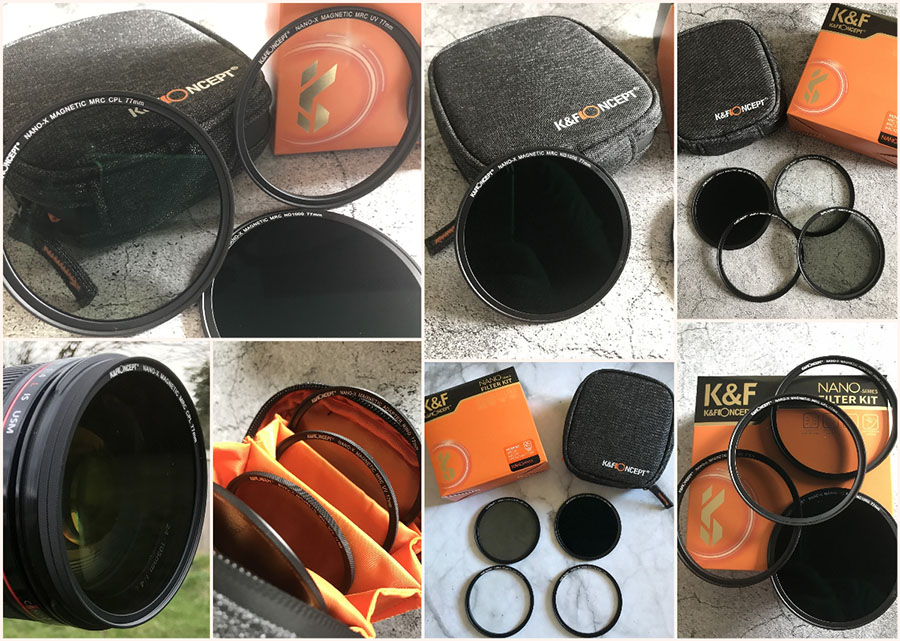 K&F 77mm Magnetic Filters MCUV+CPL+ND1000
77mm NANO Magnetic Filters (SKU:1626)
We all use filters in one form or another for our cameras, be it for protection of the main lens or for light manipulation. Usually we screw these on which is fine but the problem for all of us is when we want to change them, it can be a bit cumbersome on location or in the field or what if we want to combine filters.
Thankfully those pioneers at K&F have come up with a great system for getting round just that problem and it is set to make our lives so much easier. When we received the box of their NANO series filters we could not wait to have a look. First impressions were good.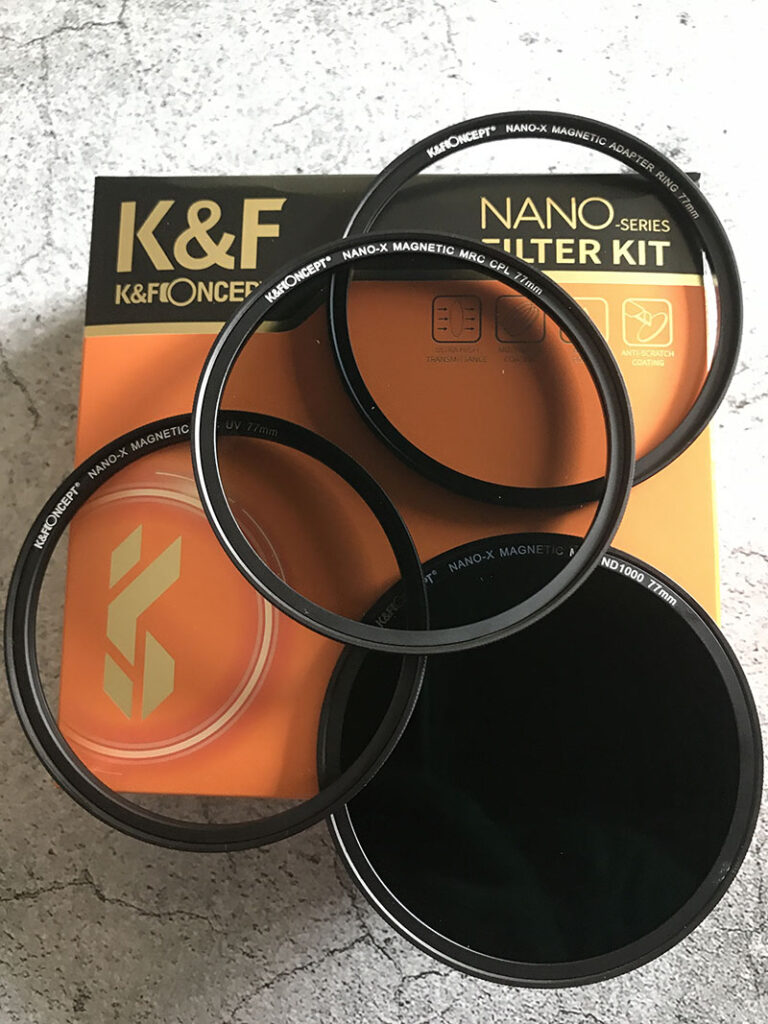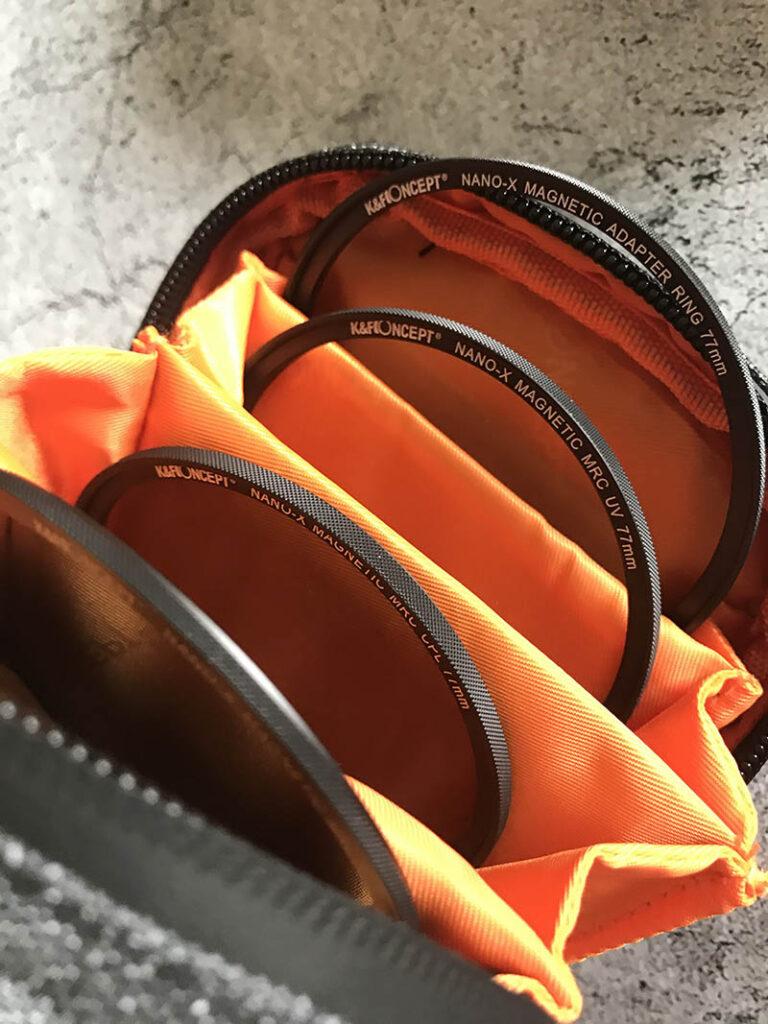 The filters come in a handy K&F branded pouch with four lenses, the adapter ring that screws onto your lens and three actual filters, an MCUV Filter, a CPL Filter and a ND1000 Filter.
Build quality was outstanding as one would expect from K&F with German manufactured glass, each lens having a 16 layer coating giving superb high definition, waterproofing, scratch resistant and anti-reflective functionality.
You can have two assembly options the MCUV can be used as the protective filter with the other filters attaching to that or you can use the magnetic adapter ring as the base and attach the filters to that giving you greater flexibility options.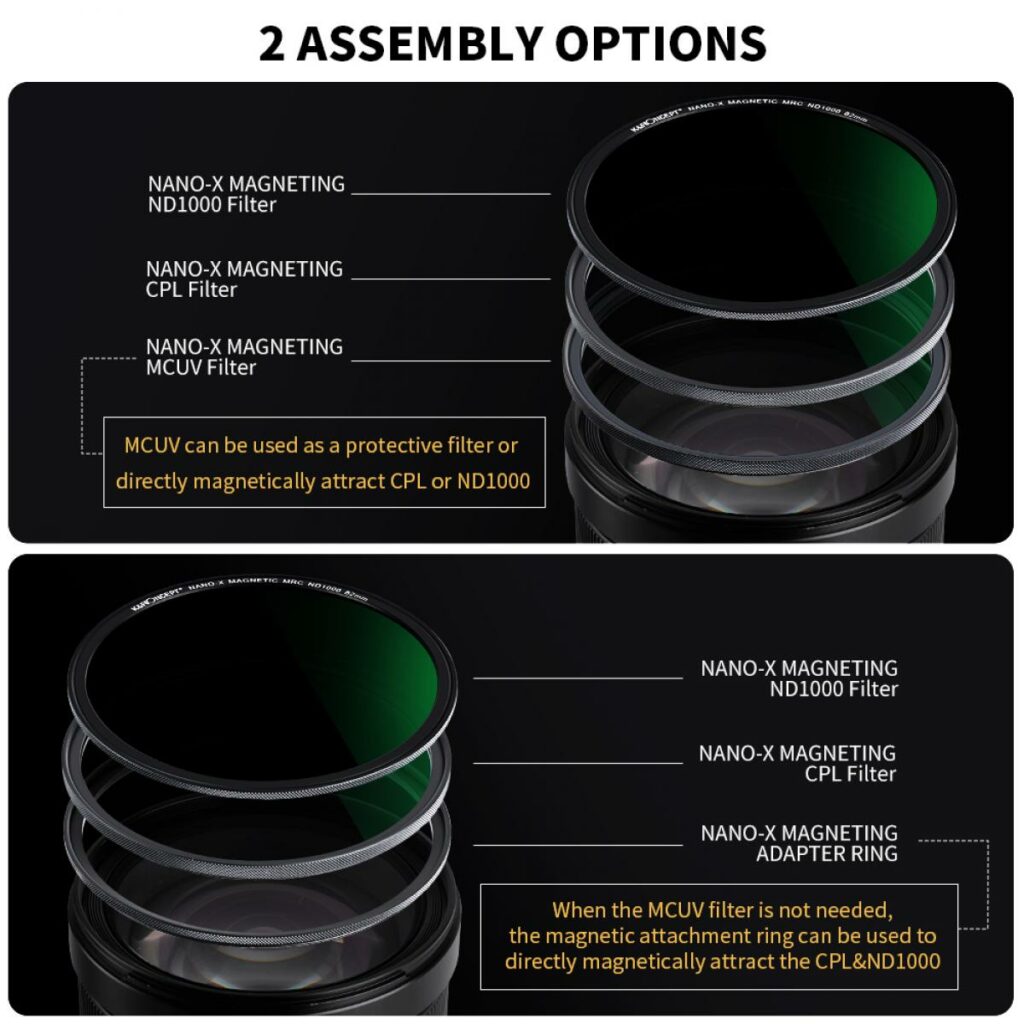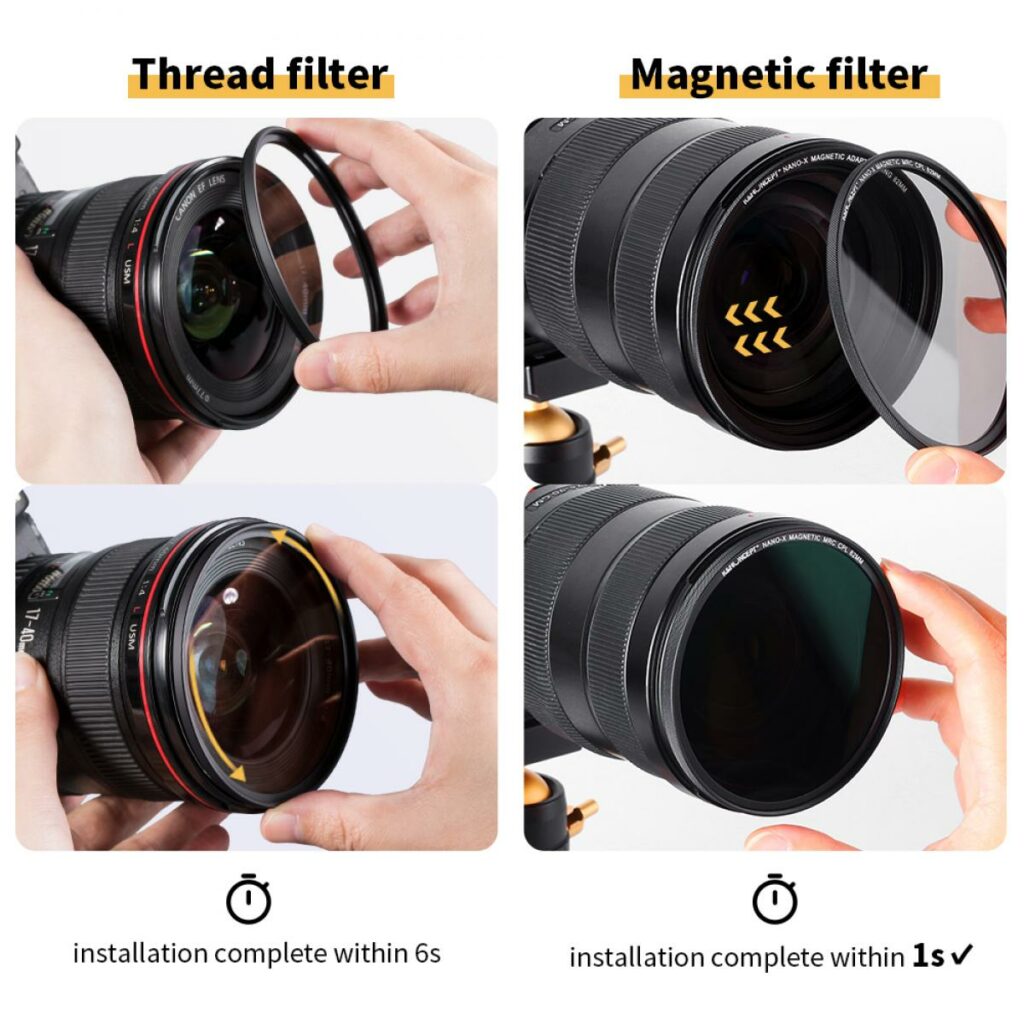 We took these out in the field to test how it would work on a 5D MKIV with a 24-105 lens, the adapter ring screwed onto our 77mm lens no problem and we tried each filter in turn, it was so easy to change each lens filter just lifting it off and replacing with another one with a firm magnetic attraction. The CNC turned edge gave a good grip and was easy to manage.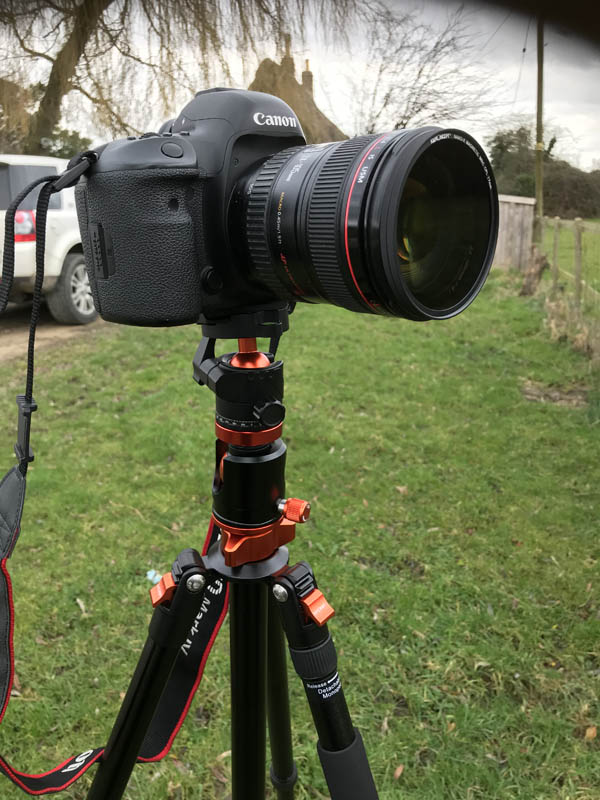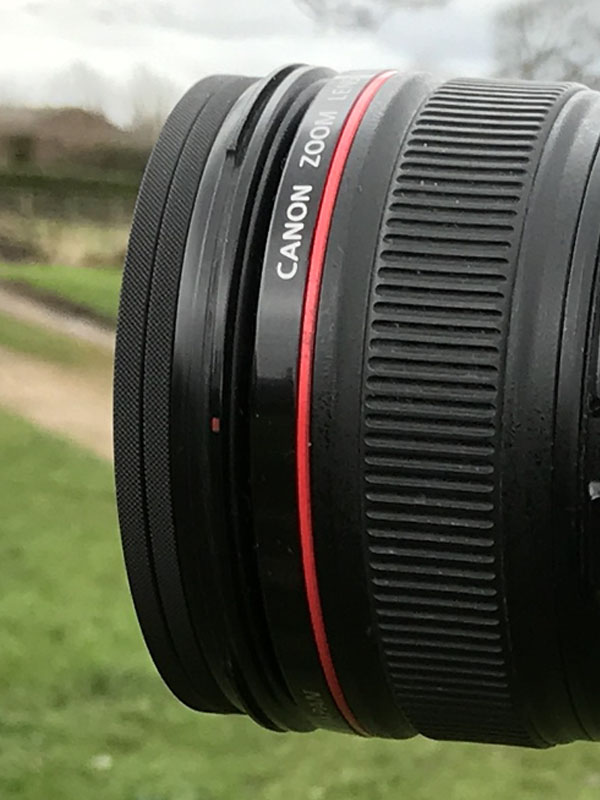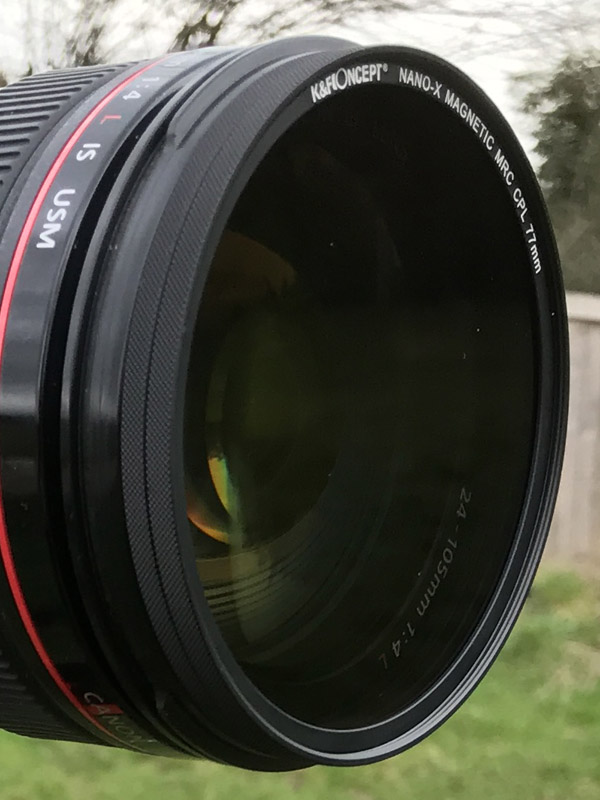 The bonus was finding that we could stack the filters on top of one another so you can really build up some light manipulation with no sign of vignetting when all the filters were stacked.
These magnetic filters are a definite winner for us, we found them so easy to use, no fiddly unscrewing filters whilst holding your camera and lens just a magnetic snap on and pull off function. K&F have brought out a broad range of these magnetic filters in various sizes to fit all of your lenses.
For those interested in buying here are some coupon codes:
K&F Website: 10% OFF code: KF10UK valid until December 31
Amazon UK: 10% OFF code: ZW7OFLHF valid until June 30